Prof. Josef Krofta – puppet director and teacher
The ASSISTEJ National Centre Award is given for the life work – not only for the focus of the Drak Theatre but also for the continuous work with activation of young audience and significant lecturing as he has educated a number of followers, who are engaged in theatre for children. His work abroad must not be neglected because it has contributed to mutual knowledge and enrichment of national theatre cultures in the field of theatre for children.

Marek Bečka  is a graduate of the Prague Academy of Performing Arts in Puppetry.  He is also a skilled director and writer. He is the founder of Buchty a Loutky puppet company ("Cakes and Puppets") in 1991, which has presented over many years a great range of offerings including Rocky IX and Tibet. Buchty a Loutky is famous all over Europe through its tours.
Marek Bečka is lecturer in puppetry at Department of Alternative and Puppet Theatre of the Theatre Faculty of Academy of Performing Arts in Prague, Czech Republic. He has been invited to give master classes in Hong Kong and the Netherlands ect.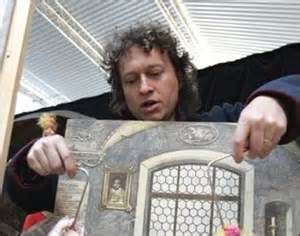 Founder, director, music composer, puppeteer of famous Czech amateur puppet group Céčko Svitavy.
The Céčko Svitavy ensemble has great merit in amateur puppetry; it is a permanent first class fixed star the light of which influenced directly or iindirectly the majority of top ensembles. And it brings pleasure into our lives.
Awarded by ERIK Prize in 1997 for Bystruška, liška (The Clever Little Vixen)
– a performance by the C.Svitavy company headed by MUDr. Karel Šefrna.
A story by Rudolf Těsnohlídek adapted by Karel Šefrna and Jana Mandlová. It has everything we know from the Céčko atmosphere and the closeness of the people on stage (in this case also with good Moravian wine), precise work with puppets (stick puppets), poetry as well as humour, work with lighting, a marked musical element, in the interpretation of which we have the feeling that everybody is capable of playing everything….I must admit that as far as the music goes, we speculated with friends at last year's East Bohemian regional show as to how many songs are of Moravian origin, folk songs, and how many Karel had composed himself – that's how Karel managed to deceive us with his composer's skills. On a simple stage with simple puppets everything seems to unfold easily as if improvised….. the easier it seems the more precisely it is constructed. It is a performance about freedom, without forcing this great topic upon us, like a little stream, springing forth from a mountain. This is also thanks to the performance of Jana Mandlové in the role of the vixen. The profound emotion, full of wisdom as well as the perfect coping with the purposeful craft in music, songs and puppet acting turns this production into a profound experience.
The Céčko Svitavy ensemble has great merit in amateur puppetry; it is a permanent first class fixed star the light of which influenced directly or iindirectly the majority of top ensembles. And it brings pleasure into our lives.
Ludek Richter, The Puppeteer 2000 (4/177)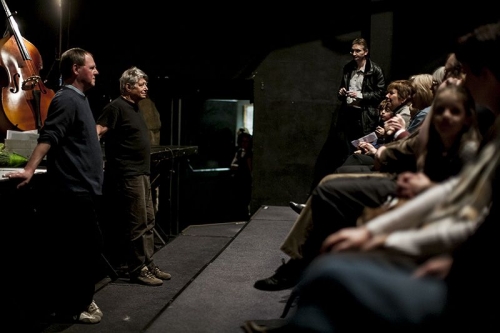 Eva Machková
*12. 3. 1931
Pavel Šrut  (born 3 April 1940 in Prague)  is a  Czech poet and writer.
Career
After graduating in 1967 from the Charles University in Prague where he studied English and Spanish, Šrut worked as an editor in a publishing house. Since 1972, he is a freelance writer and translator. Together with poets such as Ivan Wernisch and Petr Kabeš, Šrut belongs to the famous generation of Czech poets who published their first books in the 1960s. Like so many of his contemporaries, he was not allowed to publish books of his poems during the Soviet occupation, except for books for children. His work is often done together with an award-winning Czech painter and illustrator Galina Miklínová (e. g. Verunka a kokosový dědek (2004) which is included on the IBBY list, as is his 1992 book Kočičí král which is a collection of English, Irish, Scottish and Welsh fairy-tales) and lyrics for Czech musicians like Petr Skoumal, and Framus Five.
Apart from his celebrated poetry and books for children, he is also a translator from English and Spanish. His translations include books of Dylan Thomas, Robert Graves, D. H. Lawrence, Leonard Cohen, John Updike, Federico García Lorca, and others.
Western Michigan University offers the Pavel Šrut Poetry Fellowship in their Prague Summer program, where Šrut appears sometimes as a guest or guest faculty member.
Bibliography
For children (selection)
Pavouček Pája(2001)
Veliký tůdle(2003)
Verunka a kokosový dědek(2004)
Příšerky a příšeři(2005)
Šišatý švec a myšut (2008) (all five with G. Miklínová)
Theater and Visual Artist
Petr Nikl is a well-rounded Czech artist – painter, musician, writer, theater artist and photographer. Petr Nikl was born November 8, 1960 in Zlín. He studied at the Střední uměleckouprůmyslová  škola (Arts and Crafts High School) in Uherské Hradiště. After he was not admitted to the Akademie výtvarných umění (Academy of Visual Arts), he spent a year working in a travel agency, in a marketing department. He studied at the Academy of Visual Arts from 1981 to 1987.  He was one of the founding figures of an artistic group Tvrdohlaví and a member of a theater association Mehedada. He received the Prize of Jindřich Chalupecký in 1995, awarded to the most outstanding artists up to the thirty-five years of age. His work has been exclusively exhibited since 1987. He also publishes original fairy-tales.  He received, for his book Záhádky, a Magnesia Litera award in a catergory a "book of the year" and a "book for children and young people". Among his most succesfull work belongs an interactive exhibition Orbis pictus aneb Brána do světa tvořivé lidské fantazie.
Petr Nikl´s work introduces multi-genre creations, original musical arrangements, artistic and dramatical expressions, which gave him a distinct style. His art is accessible to all age categories – to children as well as to people of young age or young in spirit.
The committee of the Czech Center ASSITEJ awarded Petr Nikl´s consistent, original and truly inspirational approach to the theater (and not only to the theater, but to the art at all) as an active play where both – a child and an adult – equally keep discovering hidden worlds of creativity and fantasy, and through Nikl´s inspiration, keep transforming each moment into a miracle.
Petr Nikl received the prize of children´s theater for his ability to open the world of children to adults and the world of adults to children… And, in addition, for one of his answers to the question: "which of your professions (writer, artist, musician, actor, performer, or photographer) do you like the most?" he said:"Being a father."
Actor, Director, and Music Composer
Even though Jiří Vyšohlíd –  companion and one of the closest colleagues of Josef Krofta – has been working in the theater DRAK for 30 years now, he still perceives his work there as an exciting adventure. His theater and life vitality have made him a younger man by many years. His passion for cycling in any kind of weather is also one of the reasons for his inexhaustible vitality. His energy is well known among his colleagues. When everyone around is tired after ten hours of rehearsals, Jiří Vyšohlíd is still full of life, and then he starts to play one of his many musical instruments, lead four puppets at once, advise a sound designer, and correct off-key tones played by his colleagues… One must admire Jiří´s focus on details that he examines from every possible angle and his precise analytical approach to it. One can say that Jiří is a treasure seeker within the theater – he does not let go until he finds it and exposes it to his audience's and to his own joy. And the theater DRAK has experienced many of these joys.
(from the website of the theater Divadlo DRAK)
Confession of Jiří Vyšohlíd in the magazine Loutkář (1993)
Dependency on the theater DRAK: "It is an old, endless love – my current problem. One day a man is destined to find out that something, that he used to love and regarded as his, has changed. It's rather senility and nostalgia for the old days. We try to deal with it individually – man, I say, thank God that it even happened and that it lasted that long. Those days we used to live in Hradec and everything what we did, we put into it one hundred percent, starting with Krofta up to the last person in the studio. Nobody did anything else – today, everything "around" is very distracting. Most people have existential problems – where to get money for your family. But maybe, it is one of my optical illusions…
Further, what gets me is that some new theater members feel a bit more "free" than it should be healthy – some things that are important for theater, as discipline, they are not willing to accept. But, probably, it isn´t something harmful; it has nothing to do with creative work. When we were young, we were probably the same – and that is, exactly, the generation issue. On the other hand, they have a great advantage; they are talented in many ways today.  They sing, play musical instruments – they cannot only act, but they are also good musicians.  At that moment, the theater can afford to have live music on stage. Especially today when all the composed music is played through speakers, or it's messed up by microphones, compared to this, all the live music sounds like heaven…"
Dependency on music and theater: That´s my life´s schizophrenia.  I´ve studied puppetry, but right before I was accepted to the school, I got hooked on music. I even played the clarinet. And, in fact, I lacked any musical education – as a child, I only used to play the piano for two years, but I was asked to quit, because I did not practice. But, probably, it was encoded in me, because I voluntarily returned to music later on. Then, with Mirek Vildman, who studied with me, we were hired at the same theater, and because he already knew everything about me, he asked me to write some music. So, I tried it – and suddenly I discovered that I was writing music into everything that we rehearsed, but I wasn´t ready to do it as an almost full blown professional. For a while I was leaning more toward the musical side of me, and it made me crazy to see how theater abused music, but shortly afterwards, I realized that it was the way it must have been. And these two points of view are still fighting within me.
All the rest of the musicians, who from time to time create something for theater, have certain advantage in comparison to me – they do their own music, and only here and there they are willing to submit to compose a specific music. I´ve never known that because I've never composed anything else but specific music. That´s why I´ve never had a chance to compose the music that burns within me. So, now in my old age, I fight with another dilemma – to quit theater and dedicate my time to my own music, or…oh my God, would I be even capable to do that?!
I am afraid to leave theater. Somebody does it for three years and is not afraid to leave. Not long time ago, several guys left after many years doing this, as Honza Bílek, Láďa Peřina. I, myself, saw that it wasn't easy for them. After all, everyone has to have a lined-up plan in front of him, and I don´t have that. So, how long have I worked in Drak? – oh my God…!!"
Dependency on work: That´s the last screw into my coffin. I am an obvious workaholic.  So, as I used to be pushed to combine music with theater, I knew that I could only count on myself and couldn´t miss anything important.  And my effort to make everything right led into desire to make everything even more perfect. Today, I endlessly polish, re-write, cross out, and change every silly thing ten thousand times… I did not do that when I was young. When I find myself without work, I live in dread, it´s destroying me psychologically. Then, suddenly, I get a job, and I live in a constant stress not to mess anything up. So, the only occasion when I feel fine is when I am finishing something what is good. But that usually lasts only a few minutes, because then, I am already becoming scared if another project will come and when…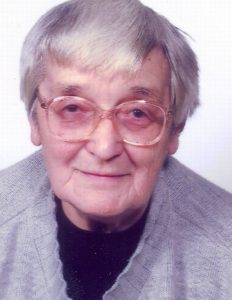 During the 50´s – 60´s of the 20th century she was one of the leading theater critics, an author of actors´ memoires (V. Vejražka, M. Horníček), and nevertheless, an author of several essays on actors (E. Kohout, O. Scheinpflugová, J. Kemr, I. Janžurová, M. Kopecký, J. Jirásková, V. Voska, and others). published as periodicals in the 90´s. Since 1970´s she has been a panel member of non-professional theater for children (national festivals  Ostrava – Poruba, Stráž pod Ralskem, Rakovník, regional festivals), a seminar and a course lecturer, an author of publications focused on the issue of theater for children with an emphasis on dramaturgy (Popelka divadla pro děti, Mýtus divadla pro děti), of epilogues and commentaries in the plays for children anthologies, an author of many articles about the history of theater for children published as Cesty českého amatérského divadla.
Actress, director, author, and teacher at DAMU Prague (Department of Educational Drama), also inexhaustable organizer, and truly, a lady fully devoted to theater…
After many years of her work in theater in Karlovy Vary, she became a co-founder and a main figure in the theater Divadlo Dagmar Karlovy Vary in 1993. There, she put together more than 30 productions mostly dedicated to young audience, and in many of these productions she has been co-operating with young non-actors using a studio work approach.
These plays are significant because of their powerfull topics that are being created and unveiled through young people´s own life experience, and further, because of their rich theatricality along with spontaneous playfullness (for example Král William, drama synů a dcer, Útěk do Egypta, Strašidla a krásné panny, etc.)
The award will be presented to Zoja Mikotová in the theater Divadlo v Celetné, March 21, 2005 at 10:00 a.m. before the theater Divadlo Neslyšícím performance, "Abeceda aneb Co se zdálo Alence" played within a theater festival celebrating the International Day of Theater for Children and Youth.
Prof. Mgr. Zoja Mikotová
Leader of the Studio of Drama for Deaf Individuals at JAMU (Janáček Conservatory of Music) in Brno.
She is continually dedicated to her original work, directing, and organizational work within theater for children and youth.
She is the founder and the spiritual leader of the Studio of Drama for Deaf Individuals at the Conservatory of Music (JAMU) in Brno, where she prepares her deaf students to be able to fully participate in life with their university diploma. Above all, she works with them (even after their graduation) on highly distinct theater creations in order to integrate hearing-impaired with healthy individuals – children especially.
She is an author or co-author of 20 plays and scripts (including 8 for hearing-impaired) that have been staged 30 times.
She directed more than 60 plays in many theaters around the Czech Republic.
Hearing-impared ensembles:
·         Ateliér dramatické výchovy neslyšících JAMU Brno (Studio of Drama for Deaf Individuals at JAMU in Brno)
·         Vlastní divadlo Neslyšících Brno
·         Divadlo Neslyším Brno
·         1. sekce Divadla v 7 a půl Brno
Other theaters:
Divadelní společnost Petra Bezruče Ostrava
Divadlo Archa Praha
Divadlo bratří Mrštíků Brno
Divadlo v Dlouhé Praha (Divadlo Jiřího Wolkra Praha)
Divadlo loutek Ostrava
Divadlo Polárka Brno
Divadlo v 7 a půl Brno
Klicperovo divadlo Hradec Králové
Loutkové divadlo Radost Brno
Městské divadlo Most
Městské divadlo Zlín
Národní divadlo Brno (Státní divadlo Brno – Zemské divadlo Brno)
Studio Marta JAMU Brno